A KEY MISTAKE TO AVOID

WHEN BUILDING THE FLOOR OF A FREEZER ROOM
When we assemble a cold – room, either a cooler or a freezer, we have one crucial task, breaking all thermal bridges.
WHAT IS A THERMAL BRIDGE IN THE COLD STORAGE ROOM?
We call thermal bridges anything that transfers the external temperature inside or the internal temperature outside the cold – room.
WHAT HAPPENS WHEN WE CREATE A THERMAL BRIDGE?
We create a way to drive the heat transfer, change the status of what comes into contact with it, and create potential problems.
Let's take an example from my recent experience; when I inspected a building site of a freezer cold-room. Freezer room insulated panel walls installation: in this case, the first step is to thermally
insulate the floor with insulating sheets, as our GT PIR insulating boards. Even though some insulated sheets have vapor barriers on the sides, we suggest adding a plastic membrane.
The next step is to embed the insulated metal panels into the floor. It's crucial to remove the last 15-20 cm of the metal sheet from the bottom of the panels. Why? Because metal is a thermal conductor, and if you don't take it off the bottom of the panel, it will drive the cold all the way down inside the floor. What happens next? If you leave the metal on, the humidity below the floor will turn into water, once in contact with the cold metal, and then become ice, which will eventually inflate and break the cold-room floor.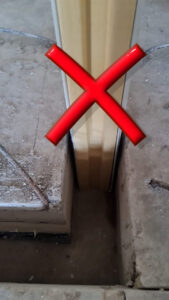 Is there a way to repair a broken floor? How much will it cost? Well, if the floor breaks, it's a huge problem: the only way to solve it is to open up the floor and take all the humidity out, place the insulation again, and pour the concrete again. Cost of the operation? Massive, as you can imagine. Better choose an expert installer and avoid such a problem.
CONTACT US TODAY
Please contact us if you have any questions about the thermal insulation of the industrial floor of a cold storage room, and we will gladly respond. You can contact us by phone at +44 7887 884768 or by completing the form below. You can also email us at sales@globepanels.com. When you contact us, we will be able to provide you with an estimate as well as a more detailed explanation of our products and services.