NEW AND USEFUL SYSTEM FOR THE FAST ASSEMBLY OF COMMERCIAL COLD-ROOMS
Thanks to the innovative system of PVC hygienic profiles you can assemble a cold room using just a few items.

WHAT ARE THE BENEFITS OF A NEW SYSTEM OF PVC HYGIENIC PROFILES?
No more waste of material because you can assemble the door using the same insulated panel
Hermetic system
Quick corner connector
System of self-supporting perimeter profiles
Invisible rivet system over the PVC profiles
HOW TO SAVE TIME INSTALLING A COLD – ROOM?
The Fixer system has been developed to quickly assemble commercial cold rooms using a metal sandwich panel with standard male/female joints, without hooks.
This system allows you to adapt the commercial cold room to any size with a simple metal insulated panel without a hook, hence saving time and money.
Why? Because, the system consists of only three profiles: the column, the angle, and the outer cover.
Furthermore, you can make an insulating floor with the same panel, using a protective finishing.
HOW SAVE MONEY WITH THE NEW MODULAR SYSTEM OF PVC HYGIENIC PROFILES?
In other words, to assemble a cold room of 3 x 3 meters with this system, we only need:
Thirty-six linear meters of column and cover profile;
Four corners;
Thirty-six linear meters of the hygienic profile. The support profile is not needed, because it is already integrated into the columns;
18 square meters of an insulated sandwich panel;
cold-room door.
TOTAL: 5 PRODUCTS! NOTHING MORE!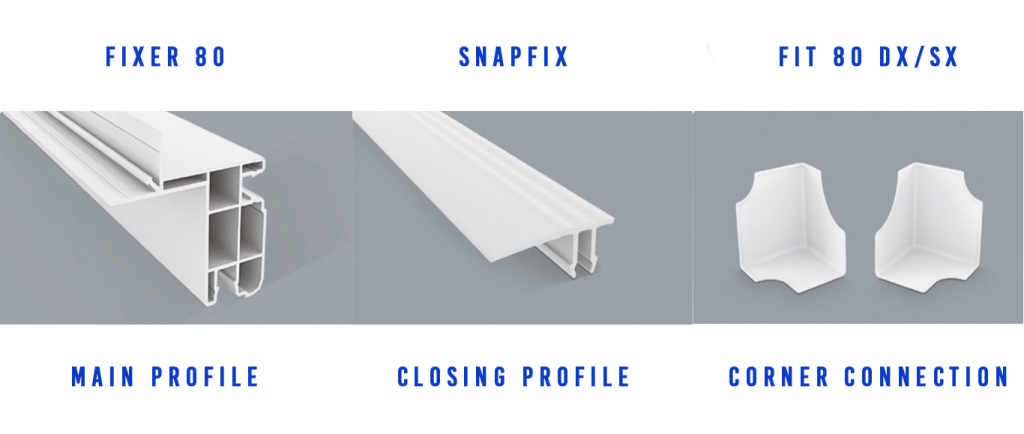 FINALLY, WHY CHOOSE OUR PVC HYGIENIC PROFILES?
Easy to keep clean
Easy to install
Easy-fitting modular system