NYLON'S INSULATING PROPERTIES AND STRENGTH OF GLOBE PANELS INSULATION DISCS
Suspending the ceiling of a cold room is a serious task, and we take it very seriously, let's see why.
DIFFICULTIES WITH THE INSTALLATION OF THE COLD-ROOM CEILING
Most installers face two main issues when installing the ceiling of a cold room:
Ensuring the perfect suspension of the roof, making sure the insulated metal panels don't fall under the weight pressure
Avoiding the creation of thermal bridges between the external and the internal side of the cold room, thus preventing condensation and ice formation.
SOLUTION FOR THE FREEZER ROOM CEILING
We can now supply our customers with the best solution for both the above issue: the GP Insulation discs (Insudisc). The GP Insudisc is aerospace-grade nylon, a hat-shaped disc with impressive load-bearing and thermal bridge breaking capability.
THE BENEFITS OF INSULATION DISCS FOR COLD ROOM CEILING
Let's see these features in detail:
LOAD-BEARING CAPABILITY
Each disc can hold over 200 kg of load (over 400 pounds) due to its chemical composition. And this feature comes with a guarantee and a loading test. Why is the performance guarantee so important? Nobody wants to be responsible if a ceiling falls, as it can seriously injure or kill personnel. So it's crucial to be absolutely sure of how much load each suspension disc can take. Remember that the installer will be responsible if anything goes wrong, so why take the risk of using a suspension system that is not performance certified?
THERMAL BRIDGE BREAKAGE
We know how crucial it is to prevent ice formation in a cold room. When we suspend the insulated ceiling panel in a cold room, we need to be sure that the suspension system will work for a long time. Metal bars and cables will hang the ceiling to the metal steel structure safely. But those cables and bars will also drive the external heath inside the cold room and create condensation and this ice, as metal is a thermal conductor.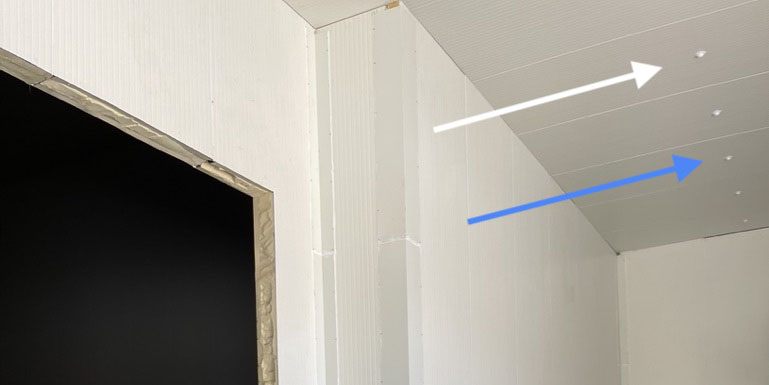 So how can we take advantage of the strength of the metal, preventing the downside? It would be best if you had our GP Insulation disc: it insulates the metal head of the bar and prevents the formation of condensation and ice, at the same time providing superior loading capacity.
So how does that work? It's extremely easy: the GP insulation discs come in two pieces, the base, and the cap. The installer has just to insert the rod and the nuts in the base and then close it with the cap. Job done, success guaranteed!
GET IN TOUCH WITH US RIGHT NOW
To learn more about the insulation discs and cold room ceiling, call us at +44 7887 884768. You can also contact us by emailing sales@globepanels.com or by completing the form below. After you contact us, we can provide you with a quote and further discuss our products and services.