HOW TO ASSEMBLE COLD – ROOM DOOR?
In this article, we will explain the advantages of using pre-formed corners when assembling a cold-room door.
Since we introduced the SMART cold – room door system last year, we have noticed that we solved a crucial issue in assembling a cold-room door. Assembling cold-room doors is a widespread practice in many countries of the world, where installers need to build their cold-room doors.
WHY ASSEMBLE A COLD – ROOM DOOR WHEN YOU CAN PURCHASE ONE FROM A FACTORY?
Saving Time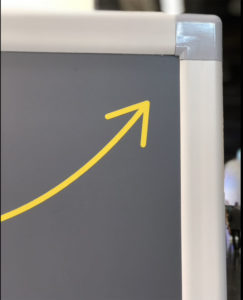 In many projects, customers don't want to wait for several weeks to get a standard-sized hinged or sliding door. The installation times are so tight that it's merely impossible to wait a few weeks to get an industrial door. To the production times, one has to add the freight times, often a few weeks long. Another factor that runs against purchasing an industrial cold room door is the need for custom dimensions and features: sometimes, doors' clear opening can vary until the last moment. So, prompt delivery and last-minute changes push the installers to search for a local solution. Globe Panels has a Smart System Solution allowing installers to assemble a cold-room door very quickly from an insulated panel.
WHAT IS THE MOST SIGNIFICANT ISSUE THAT INSTALLERS ARE FACING WHEN BUILDING A COLD – ROOM DOOR?
The corners. Cutting and welding a corner has many drawbacks for installers: it's time-consuming and requires specific, expensive tools. Thus, making the assembling very expensive. Globe Panels came with a significant breakthrough: pre-formed angles. Pre-formed angles will fit in the blade and frame profiles, allowing the assembling to be at least 50% faster. Let's not forget about the gaskets: cutting and gluing a gasket is undoubtedly easier than blade profiles.
Personalization of a cold – room door
But how is the look of it? All installers know that the gasket tends to break with the time and the cold, in the glued joints. Our SMART door system will allow you to assemble the cold-room doors in 50% less time, granting a better and more professional look.


CONCLUSION
Pre-formed corners help to assemble a freezer door faster. Moreover, it helps to avoid disruption in the construction as there is no waiting time in factories and transport delays.
CONTACT US
To learn more about pre-formed corners for building a cold – room door, you can get in touch on +44 7887 884768. You can also contact us via sales@globepanels.com or completing the contact form below. Once you reach out to us, we can provide you with a free quote and can also discuss our products and services further.